Naples Commercial Glass Repair & Replacement
The Glassperts is your preferred local Naples Commercial Glass repair professional, specializing in commercial and residential glass repair and installation in Naples, FL. 
Call us today or fill out the form to schedule services to get started. 
What kind of business would need a Naples Commercial Glass Repair?
Naples Commercial Glass Repair is a service for businesses that require window repairs or replacements. This includes restaurants, retail stores, office buildings, medical facilities and schools. These types of businesses may require glass repairs due to weather damage, vandalism or other accidents that can cause damage to the windows.
Window safety
and functionality are critical to the success of any business, so let's learn about the replacement process.
Commercial Window Assessment
To begin, a technician will first carefully inspect all panes for cracks or shattering of the business or commercial property. After that they'll assess hardware functionality and evaluate any existing damage to the material around the frame. Depending on how much of an overhaul is needed, extra precautions may be taken in order to ensure a successful repair.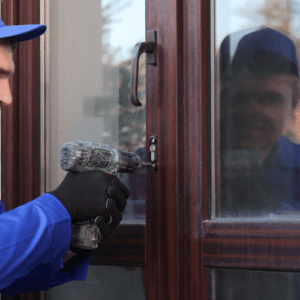 The Planning of New Windows
If you're looking to entirely replace existing windows, expert technicians will help you choose the best solution for your needs. Window companies have a deep understanding of different types of materials and designs available on the market, meaning they can provide suitable suggestions that meet both your budget, the business's needs, and energy efficiency standards.
Commercial Window Replacement Process
If window replacement involves removing broken glass or resealing windows, technicians will use specialized tools to remove any damaged parts and fill in any gaps. Then the window is re-sealed with high-grade materials so that it is weatherproof and secure. Finally, new glass will be cut to size and installed in place of the old, broken panes.
The Glassperts: Best Naples Commercial Glass Repair Service Team
If you have a commercial project with windows that are in need of repair, replacement, or just general maintenance, you can trust The Glassperts. Our experts have the experience and knowledge to provide top-notch services for businesses and commercial properties throughout Florida. Get in touch with us today for more information on how we can help you with your Naples Commercial Glass Repair services by calling (239) 350-5488.
The Glassperts Sliding Glass Door & Window Repair Naples
3201 Tamiami Trail N Suite 126, Naples, FL 34103
(239) 350-5488