How to Find a Qualified Sliding Glass Door Track Repair Company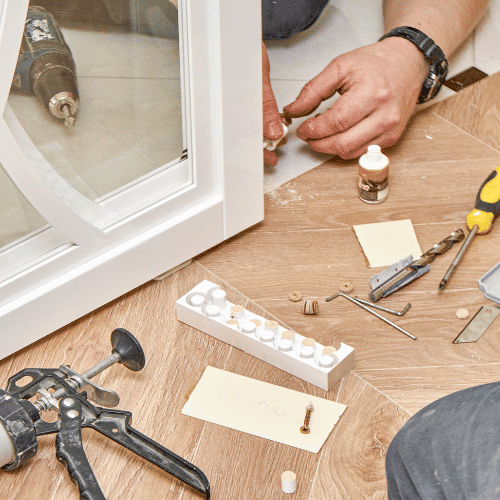 Are you having problems with your sliding glass door track? There are many things that can go wrong and cause issues when it comes to a sliding glass door, such as debris buildup or tracks becoming misaligned. Instead of attempting to fix the issue yourself, it's best to hire an experienced professional for assistance. Finding reliable repair services isn't always easy; however, if you do some research beforehand and know what questions to ask, chances are you will find someone who is capable of fixing your track in no time at all. In this blog post we'll guide you through the process of finding a qualified service for any kind of sliding glass door repair needed!
Identify what type of sliding glass door track repair you need 
Sliding glass doors are a beautiful and practical feature in many homes, but they require regular maintenance to keep them functioning smoothly. Over time, the track that guides the door along its path can become damaged or worn, causing the door to stick or jump off track. If you're experiencing problems with your sliding glass door, it's important to identify what type of track repair it needs before attempting to fix the issue. There are several types of repairs that may be needed, such as cleaning debris from the sliding door tracks, replacing damaged rollers, or adjusting the door's height. By properly diagnosing the problem, you can ensure that you perform the right repair to get your door back in working order.
Research local companies and read reviews online 
In today's digital age, it's easier than ever to research local businesses before booking a service. By reading online reviews from previous customers, you can gain valuable insights about a company's products, services, and overall reputation. So, before you pick up the phone to schedule an appointment, do your due diligence and dig into those online reviews. Your wallet and your peace of mind will thank you.
Ask for recommendation from friends, family or neighbors who have had similar repairs done
When it comes to repairs, it's always helpful to seek advice from those who have already gone through the process. Your friends, family and neighbors may have had similar repairs done in the past and can offer valuable insight into which repair services they recommend and which ones to avoid. Not only can they provide recommendations, they can also tell you about their overall experience with a particular glass door repair service and if their needs were met. So, don't hesitate to reach out to those in your circle for their thoughts and opinions; it could save you a lot of time and money in the long run.
Look for a company that guarantees their work and offers warranties on repairs 
Finding a trustworthy company for sliding glass door track repairing service that guarantees their work and offers warranties on repairs can be a challenge. However, the peace of mind that comes with knowing you have made the right choice is priceless. A company that stands behind their work demonstrates a commitment to their customers and quality service. With a warranty in place, you can rest assured that any potential issues will be addressed promptly and efficiently, without additional cost. So, when searching for a company to handle your home or business repairs, be sure to choose one that offers a guarantee and warranty. Your satisfaction and confidence in their service will be worth it in the end.
Request to speak with a representative to get more information on the repair process 
Are you tired of feeling in the dark about the sliding glass door track repair process? Don't worry, you're not alone. It can be frustrating to have little knowledge about what's going on with your device while it's being fixed. Luckily, the solution is simple. By requesting to speak with a representative, you'll have the opportunity to get all the information you need. Whether it's an update on the progress or just some general questions, speaking with a representative will give you peace of mind. So don't hesitate to take control of the repair process and request to speak with a representative today.
Make sure the company is licensed and bonded before making any commitments
Before making any commitments with a sliding glass door track repairing company, it is always important to check if they are licensed and bonded. This is an essential step that acts as a safety net for you as a customer. A license will verify that the company is authorized to operate in the specific industry, and the bond will provide protection in case of any problems or mishaps that may arise during your dealings with the company. Therefore, it is crucial to take your time and research the legality of the company before signing any contracts. It may seem like a small detail, but it can save you from a lot of troubles down the road. Remember, it is always better to be safe than sorry.
13991 SW 144th Ave #302, Miami, FL 33186, United States
(786) 558-7575
Contact Form
"*" indicates required fields
Schedule Your Emergency Glass Door Repair Service Today!